The Designer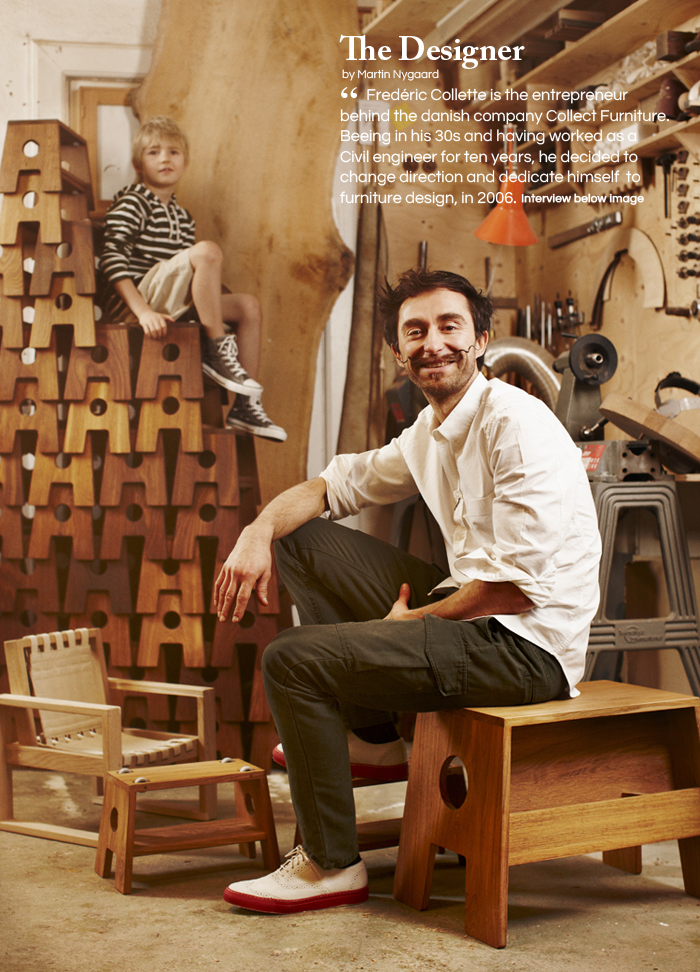 How come you design furniture for kids?
'My starting point for Collect Furniture was to create furniture that unites children and adults. The furniture shall please and excite all ages through its functionality and quality. In other words, I would like to create furniture that invites the children to take part in spaces where parents or adults usually dominate. This could be the kitchen, living room or dining room and Collect Furniture creates sort of a synergy between these rooms and children space.'
What characterize your furniture?
'The furniture I make is often a solution on a problem or an observation I have come across, which I try to channel into a design. It is a fun way of working because the customers often recognize my ideas and thoughts from their own life. When it comes to aesthetics I work with both very graphic and rigorous designs as the A-series, but also design that look more like modern-timeless-classics as the Oak furniture series.'
The letter 'A' runs like a red thread in your design. What makes that shape so special?
'For me the letter A means stability and durability, and therefore I enjoy using this shape as it signals 'it is safe to sit right here'. Also, I find the A-shape quite attractive with the sloping sides that meets the horizontal lines. It is a powerful visual shape.'
Your first three furniture series are solely tables and chairs. How come?
'First and foremost because when I started this company, I thought that these categories lacked quality products for kids. When you begin working as a designer tables and chairs are rather obvious choices to start with since these are furniture well-known to all people. In reality tables and chairs are very difficult to design due to the fact that everyone has an idea of how a good chair shall look or feel. But do not worry, I am designing other furniture too!'
You have started Collect Furniture after many years as a civil engineer. What made you change lane?
'I have always been into design and I have dreamt of working as an entrepreneur and starting my own business. A couple of years ago I was nominated for the 'Formland'-award for best kids furniture design and so I felt that it was the right time. What I enjoy the most about being an entrepreneur is that I get to take part in every aspect of the design-process from the first idea to the final consumer.'
How would you describe your job in three words?
'Often Hard, sometimes Exciting but mostly Fun!'
What is it that Collect Furniture offers that other Furniture companies cannot?
'We make furniture of high quality that is both durable and carefully tested to guarantee safety of use. Also, we are the first furniture company in Denmark to achieve The Nordic Eco-label. Another thing could be that I offer a personal contact to the customer as well as a high level of service and guarantee on the products. Lastly, I put a huge effort into quality assurance, making sure that all products are in excellent condition before shipping to customers.'
What is your dream for Collect Furniture?
'My dream is to see the product range grow along with the company. My hope is that the products eventually will be known also outside of Denmark, as I believe we offer some quality design furniture that match the best of the established brands out there.'
What's going on with the moustache?
'Ha ha… The moustache is a result of a vacation where I didn't shave for a couple of month and one day I started twirling the hair on my upper lip. It started as a funny experiment, but I began to appreciate the look soon after, and today it has become an integral part of my identity I guess.'